Floods in dry regions of the world
The underestimated risk
Managing flood risks in dry regions of the world is particular challenging.
In contrast to droughts, hazards from flooding are often neglected due to the low annual rainfall.
The lack in knowledge, awareness and preparedness to floods on private and public level in combination with potentially poor building design, poor spatial planning and rare events of heavy rains lead to an underestimated flood risk.
In order increase flood resilience, the floodlabel concept aims to lower flood risks by actively integrating the population under risk.
The HKC is part of the cooperative project "Sustainable strategies and technologies for flood risk management in arid and semi-arid regions" (HOWAMAN).
The project is lead by the Institute of Hydraulic Engineering and Water Resources Management of the RWTH Aachen University.
All project partners are shown in the list below:
Institure of Hydraulic Engineering and Water Resources Management

, RWTH Aachen
Institute for Water and Waste Management at RWTH Aachen e. V.
Institute for Sociology, RWTH Aachen
Research group Flood Risk Management, University of applied sciences Magdeburg-Stendal
Kisters AG, Business Unit Water
DMT GmbH & Co. KG, Segment for Hydrogeology and Water Management
HochwasserKompetenzCentrum e.V.
HOWAMAN is financially supported by the Federal Ministry of Education and Research (BMBF), under the programm "Research for Civil Security".
Within the project scope of the HKC, the floodlabel concept is transferred and adapted to these conditions.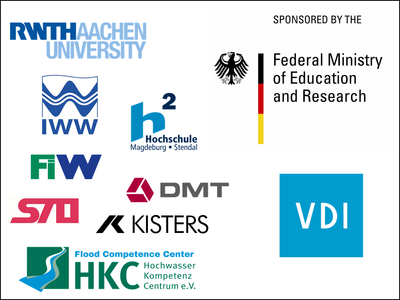 Further program information can be found under the following links:
www.sicherheitsforschungsprogramm.de